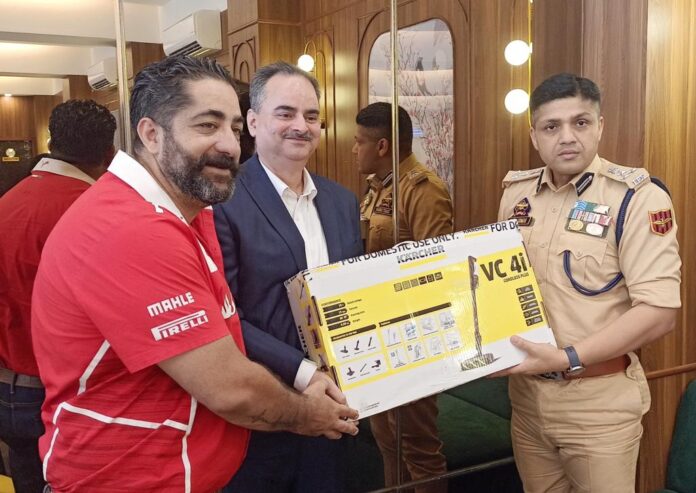 The ceremonial flag-off to the Rally that took place on 14th June 2023 brought together a jaw-dropping lineup of 30 rally cars that have already joined the race to glory. As promised, the five-day event 'Rally of Valley' made the participants and the viewers experience full excitement, speed, and adventure like no other, along with capturing the essence of cleanliness in automotive excellence. The rally covered 550km through treacherous roads, from Chamba to Srinagar, offering thrilling adventure and breathtaking landscapes.
"We are happy to be associated with the 'Rally of Valley' as the main sponsor and are excited to be part of this exhilarating event where we got to set up 4 pit shops across the route, showcase the power of our pressure washers, vacuum cleaners, and window vacuum cleaners that enhanced the performance and appearance of the participated vehicles," said Mr. Jatinder Kaul, MD of Karcher, India.
The 'Rally of Valley' organized by Chamba Motorsport, Azlan Racing, and Autoz360, was established in 2021 and has more than 500 members throughout India who are between the age of 22 years to 55 years, are either high-class businessmen and grade-first professionals including high ranking army cadre. These participants drove through off-road, Tarmac tracks, and snow patch tracks throughout the mountains under the -5 to 28 degrees climate.
"With Karcher by our side, the participant's performance was turbocharged throughout the rally. Together, we unleashed our passion, power, and precision, leaving no stone unturned in our quest for triumph. The 'Rally of Valley' witnessed the dynamic fusion of Chamba Motorsports' relentless drive and Karcher's commitment to innovation, creating an unforgettable experience for all motorsport enthusiasts" exclaimed Diwakar Kalia from Chamba Motorsports, Rihen Bhardwaj from autoz365motorsports and Taufiq Mughal from Azlan Adventure Racing.
Kärcher and Chamba Motorsports teamed up and created an unforgettable event. Termed as India's biggest and longest mountain TSD (Time Speed Distance) event featured four-wheeler vehicles. Karcher India Managing Director, Mr. Jatinder Kaul was present along with eminent guests, Karcher representatives, and channel partners to felicitate the winners of the Mountain Rally.
This 'Rally of Valley' Covered 1100 kms distance and organizers are Rihen – Auto365, Diwakar – Chamba Motorsports, Taufiq  Mugal – Azlan Racing, their group consists of peoples of different ages ranging from 20 to 60 years. 
About Chamba Motorsports
Chamba Motorsports is a renowned motorsports organization that hosts thrilling and competitive racing events. With a focus on fostering the growth of motorsports in the region, Chamba Motorsports provides a platform for talented drivers to showcase their skills.
About Kärcher
Kärcher is a global leader in innovative cleaning solutions, offering a wide range of cleaning solutions for both residential and commercial applications. With an emphasis on quality, performance, and sustainability, Kärcher continues revolutionizing the cleaning industry and exceeding customer expectations.
For more information, please visit: Chamba
otorsports: https://chambamotorsport.com 
Kärcher: www.karcher.com