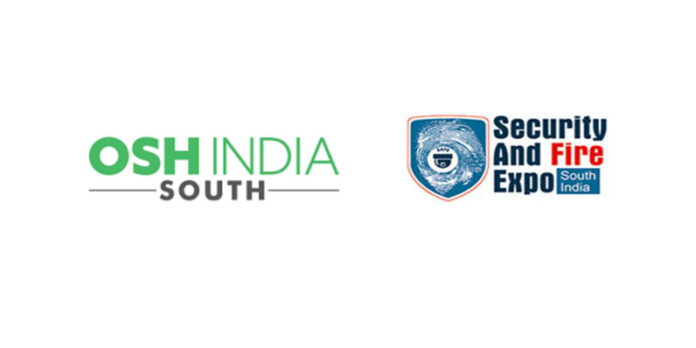 Must-attend events for professionals in the Occupational Safety & Health, Electronic Security and Fire Safety domains

Co-located shows by Informa Markets in India slated for July 5-6, 2023 at the Chennai Trade Centre
Chennai (Tamil Nadu) [India]: Informa Markets in India, a distinguished B2B exhibition organiser, announced the much-awaited 8th edition of Occupational Safety & Health (OSH) South India and the 7th edition of Security and Fire Expo (SAFE) South India. The prestigious Chennai Trade Centre in Chennai, India, will host these co-located shows on July 5-6, 2023. These events promise to unite industry experts, cutting-edge solutions, and innovative technologies, with the goal of advancing occupational health and safety, as well as the electronic security and fire safety industries, with an eye on the south India landscape.
Speaking about the upcoming OSH South India and SAFE South India 2023 events, Mr. Yogesh Mudras, Managing Director, Informa Markets in India, stated, "India is on the growth journey towards becoming a developed, mature economy and as the economy remarkably increases in size and value, there is also a corresponding need to keep a close watch on the safety and security of citizens and the workforce that have an impact on the welfare of society. Additionally, with market demands increasing as the world opens, there is a huge appetite for latest technologies in Artificial Intelligence, Facial Recognition and Electronic Chips in the safety and security domains."
"With the projected growth of the cybersecurity market alone slated to be 12.87% between 2023 to 2028, resulting in a market volume of US$4.57 billion in 2028, for professionals to stay informed and connected becomes paramount. We are committed to promoting and advancing this industry requirement through events like OSH South India and SAFE South India and staying up-to-date with the latest trends, technologies, and best practices. Additionally, the shows will also provide an unparalleled opportunity for businesses to network with industry peers, and learn from leading experts in the field. We are excited to be back in Chennai for the 2023 edition of these events. Let us work together to create a tech-enabled secure and safe nation," he added.
OSH South India:
OSH South India Expo, as south India's largest occupational safety and health event, will be a key congregation for knowledge-sharing and showcase of latest services and products. Industry professionals can witness a vast array of Personal Protection Equipment, Fire & Gas Detection/Protection, Passive Fire Protection, Safety Signage, Ergonomic Workstation Manufacturers, Safety Training and Consultancy, Safety Software, Medical and Travel Security Services, Lockout Tagout and Machine Guarding, Material Handling, Respiratory Protection, Fall Prevention Accessories & Height Safety Products, Safety Accessories & Uniforms, Electrical Safety, and Transport Safety.
The event will feature internationally renowned exhibitors, consultants, business experts, and key government officials, who will address the latest trends and technologies in the industry. OSH India boasts a spectacular line-up with over 120+ leading brands, 50+ esteemed speakers, 150+ eminent delegates, and 3,000+ enthusiastic visitors converging at the event. Key exhibitors such as Udyogi International, Woodland, 3M India, MTandT, Venus Health & Safety, Liberty (Warrior), Raychem, Fall Arrest System Technology and Reliance Footprint and many more will feature in the show.
In India, activities in OSH have focused on promoting national legislation and updating it in line with international labour standards and strengthening workers' and employers' organizations. Echoing latest trends, a two-day conference will include leadership insights on key topics such as 'The effective management of workplace health-related conditions', HSE at Workplace: Future risks, challenges and opportunities', 'Ergonomics and Workplaces: Formulation the Right Mix of Health and Productivity', 'The Impact of Health and Safety Regulations and Compliances on the Workplace', 'Five Steps to Hazard Identification and Risk Assessment', 'Mental Wellbeing at Workplaces', 'Communicating Workplace Safety Practices: The Leader's Role' and 'Future of Safety in a Digitalised World – Preventing Accidents through the Use of Technology', among others.
OSH South India has received significant support from reputable associations including World of Safety and Health Asia, Tamil Nadu Safety Professionals Welfare Association, Safety Appliances Manufacturers Association, Indian Technical Textile Association, and the International Powered Access Federation (IPAF).
SAFE South India:
Parallelly, SAFE South India is reputed to be the only Commercial Security show in South India, attracting the choicest attendees from private and public sectors across the southern region. In this edition too, it will focus on highlighting the latest innovations in safety and security products and services under the categories of Surveillance, Intrusion Control and Biometrics Surveillance Cameras such as Night Vision, Digital Video Recorders, Encoders & Decoders, Security Alarm System, Audio Video Door Phones, RFID Systems, Bio Metric Systems, Access Control, Anti- Theft EAS Systems, Entrance Management Solutions, and Guard Patrol Monitoring System, among others.
The event will gather exhibitors from various sectors, along with informative seminars and workshops. SAFE South will feature over 120 plus brands, knowledge sessions with more than 20 eminent speakers. Key exhibitors such as Premier Plus partners: Hikvision, Magtech, Prama, Tiandy, Trueview, Zkteco& In4 and Premier partners: Cybertronics, eSSL, Fyber, Realtime, Timewatch, TVT and Voltaic will feature in the show. Professionals involved in the Security from Healthcare & Pharma, IT & ITES, BFSI, Manufacturing, Logistics, Energy, Hospitality, Educational Institutes &Academias, Home Security, Retail, Airports & Seaports, Tech parks, Shopping Malls, Defence& Homeland Security, City Surveillance, Public Infrastructure and decision makers such as IT Heads & Managers, Policy Makers, Heads of Government and Municipal bodies and Civic Authorities will mark their presence.
Along the sidelines of the show, a two-day conference with the theme—Demystifying Security Tech for a Safer World—will include trending topics such as, 'Emerging Threats to Industrial Security and the CSO's Role in Crisis Management', 'The Future of Security: Disruptive Technologies in Enterprise Security Risk Management', 'Managing Security Across Locations Globally – Risks & Challenges', 'Integrated Technologies for Safe Cities in the New Normal', 'Reimagining Cyber Security for a Hybrid Workplace' and 'Ensuring Diversity and Inclusion in Corporate Security, Safety & Loss Prevention', among others.
SAFE South India is well-supported by OSAC Chennai Chapter, ASIS New Delhi, Mumbai, Ahmedabad Chapters, GACS and Mitkat Advisory, Tamil Nadu Traffic Police and Tamil Nadu Fire and Rescue Services
With the promise of remarkable exhibitors, ground-breaking solutions, some top international brands being showcased for the first time and insightful sessions, OSH South India and SAFE South India 2023 are set to be a transformative experience for professionals in the occupational safety and health as well as electronic security and fire safety industries.