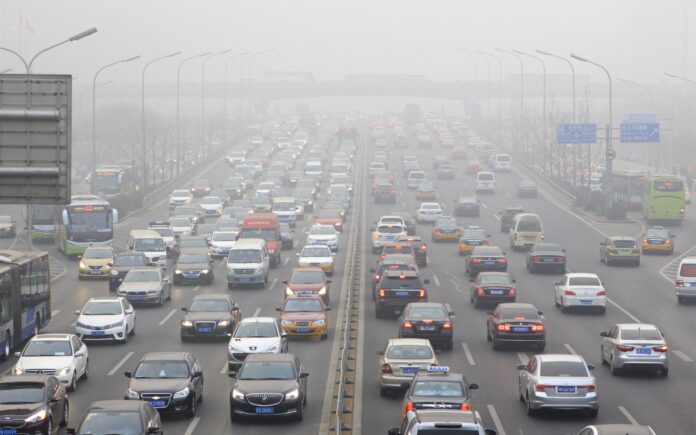 Singapore: Cigarette smoking and other uses of tobacco shave an average of 2.2 years off lifespans globally. But merely breathing if the air is polluted is more damaging to human health.
That is the conclusion of a report published Tuesday by the University of Chicago's Energy Policy Institute, which identified air pollution as the world's top threat to public health, responsible for reducing average life expectancy by 2.3 years worldwide.
China, once the poster child for smog-filled skies, has been a surprise success story. Between 2013 and 2021, the world's second-largest economy improved overall air quality by more than 40% while the average lifespan of residents increased by more than two years, according to the report.
By contrast, four countries in South Asia India, Bangladesh Nepal and Pakistan accounted for more than half of the total years of life lost globally due to pollution in the atmosphere over the same eight years. India alone was responsible for nearly 60% of the growth in air pollution across the globe during that time.
If India were to meet World Health Organization guidelines for particulate pollution, the life expectancy for residents of capital city New Delhi would increase by 12 years.
India's Ministry of Environment, Forests and Climate Change didn't immediately respond to a request for comment.
An increase in wildfires in places such as California and Canada has renewed attention on the dangers of polluted air. Around 350 cities globally suffer the same level of dangerous haze that enveloped New York City in June at least once a year, according to calculations from environmental think tank Centre for Research on Energy and Clean Air, which aggregates data from dozens of official government sources.
How seriously a country takes the problem typically depends in part on public awareness, according to Michael Greenstone, an economics professor at the University of Chicago who contributed to the report. Knowledge of the health risks of poor air quality is low in many African and Asian countries, which suffer the worst outcomes.
"Air-pollution improvements are often driven by the demand of the people," he said. Having access to reliable monitoring tools to enforce clean-air requirements is also important, he said.
China's fight against air pollution began in the early 2010s, when an influential property tycoon, pointing to Beijing air-quality data published by the U.S. Embassy on Twitter, launched a social-media campaign that pressured the Chinese capital into being more transparent about pollution levels.
Public demands continued and spread until the central government launched a "war on pollution" in 2013. Now there are nearly 25,000 emissions-monitoring devices installed in plants and factories across the country that provide publicly available hourly updates on emissions data.
The devices make it difficult for local officials to tamper with data and obscure environmental violations. Meanwhile, air quality became an important metric in evaluating the performance of local officials.
An experiment by American and Chinese university researchers over eight months in 2020 across China showed that public complaints about air-quality violations, on for example social-media platforms, were more effective in reducing a firm's subsequent violations and emissions than private appeals.
China's Ministry of Ecology and Environment didn't immediately respond to a request for comment.
India launched a National Clean Air Program in 2019, but installed only 180 additional manual air-quality monitoring stations in the three years that followed, according to data compiled by CREA. The country currently has nearly 900 monitoring stations in total, which is still far less than the 1,500 India says it aims to install to achieve its goal of reducing air pollution by at least 20% by 2024.
The Energy Policy Institute based its findings on an Air Quality Life Index developed by Greenstone and other researchers. The index is based on an estimation – extrapolated from a comparative study of the effects of air pollution on two groups in China that long-term exposure to fine particulate matter at a concentration of 10 micrograms per cubic meter reduces a person's lifespan by an average of one year.
Some studies have shown prolonged exposure to that level of pollution has a lesser, but still significant, impact on life expectancy.
Besides premature death, sustained exposure to air pollution can lead to a variety of illnesses, including heart disease, lung cancer and diabetes, other studies have shown.