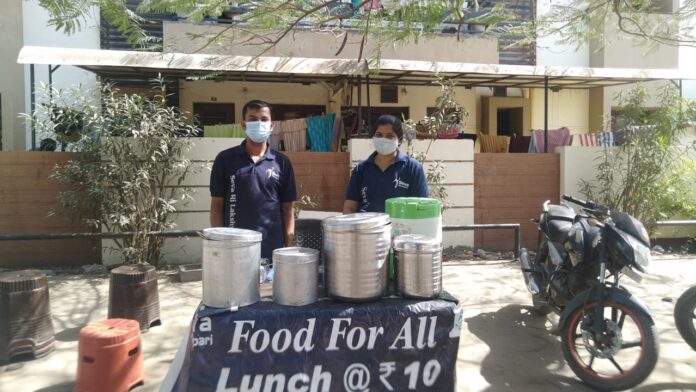 Seva Sarvopari founded in the year 2017 by Social Activist Kalpesh Ahuja is committed to make sure that no one sleeps hungry in town.
With their projects which aim at food and literacy organize Swabhiman Stalls at various places of town so that people do not feel the food is away from their reach. The food is provided at a negligible cost of 10/- rupees which includes Chapati, Dal, sabzi, and Rice.
Swabhimaan stalls were started by Ngo with a vision that no one feels they are having it for free and they can feel their self-respect is preserved.
Along with the Swabhimaan stalls, the NGO also runs chotu padhega classes where kids from slum areas are taught to make sure they do not remain away from education.
They are enrolled in school and are realized the importance of education.
The NGO wishes kids not only to join school but to excel in their careers for this purpose they have started Library for kids which aims in preparing for competitive exams.
The NGO is supported by citizens of the town. The NGO appeals to citizens not to give money to beggars so the town can be made beggar free. All this food is cooked at a place which is called Seva Ghar (house of kindness) due to which many people have got employment. The NGO works on the motto Seva Hi Lakshya.
Instagram – https://instagram.com/sevasarvopari?igshid=YmMyMTA2M2Y=