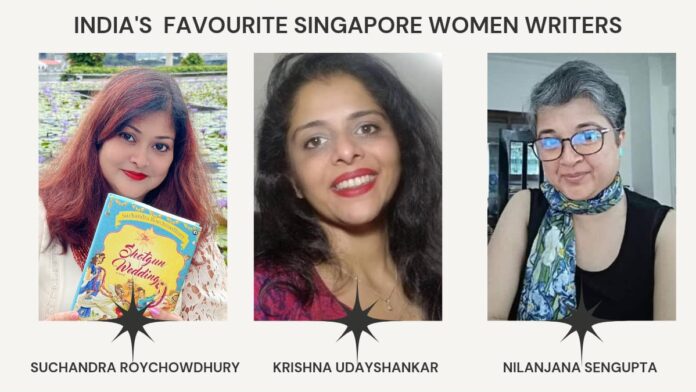 In a world where female voices are often silenced or marginalized, South East Asia's literary scene is a vibrant oasis where women writers are making their mark. Singapore's women writers are weaving tales that capture the hearts and minds of readers around the world. Today, we will introduce you to three of India's favourite women writers from Singapore: Suchandra Roychowdhury, Krishna Udayshankar, and Nilanjana Sengupta. Get ready to be inspired, entertained, and moved as we explore the rich and diverse world of South East Asian literature. 
SUCHANDRA ROYCHOWDHURY
Incorrigible bibliophile, travel enthusiast and art aficionado, Suchandra lives with her husband and son in Bayshore, Singapore.  Suchandra has been a student of English Literature and obtained the degree of Master of Arts from Presidency College, Calcutta and pursued MPhil in the University of Calcutta.
"The Shotgun Wedding" is her first attempt in essaying a novel, inhabited by characters caught in an outlandish satire in a remote village in West Bengal, India. The bizarre socio-political dynamics unfolding between a newly appointed young lecturer hailing from cosmopolitan Calcutta and the inhabitants of rural Bengal make way for a rather comic narrative, interspersed with romance and mistaken identities. Currently, her debut novel is on the Best Seller List of Aleph Book Company, as well as being shortlisted Women AutHer Awards 2023 by the Times of India Group.
You will find The Shotgun Wedding quite easily on: https://bit.ly/37RB5LK
KRISHNA UDAYASANKAR
Krishna Udayasankar is a Singapore-based Indian author, known for her modern retelling of Mahabharata through the novel cycle, The Aryavarta Chronicles (Govinda, Kaurava and Kurukshetra). She is also the author of Immortal, 3 – a novel on the founding of Singapore – and Objects of Affection – a book of prose-poems. 
She has recently clinched a second Bollywood film deal for her books in less than a year.
Indian production house Phantom Films has picked up the screen rights to Udayasankar's 2016 fantasy novel Immortal, which reimagines the legendary warrior Ashwatthama of the epic Mahabharata as a modern-day historian-for-hire.
Cursed to never die, the 4,000-year-old professor is drawn into a search for a historical artefact that may hold the secret to his unending existence.
Last month, it was announced that Sonam Kapoor, one of Bollywood's highest-paid actresses, will be adapting Udayasankar's best-selling mythological trilogy The Aryavarta Chronicles.
NILANJANA SENGUPTA
Nilanjana Sengupta is an author who hails from Kolkata, and has lived in Singapore for over 13 years, said it took her three years to pen her latest offering "Chickpeas to Cook and Other Stories" that looks at women of the tribe – often leading difficult lives, caught between family traditions in a fast-changing modern world.
Sengupta's other titles include "A Gentleman's Word: The Legacy of Subhas Chandra Bose in Southeast Asia".
Nilanjana Sengupta is Visiting Scholar at the Asia Research Institute, National University of Singapore. Her research interests are feminist awakening in Southeast Asia, cultural exchanges between Asian nations and the Indian subcontinent and questions of integration, identity and hybridity of borrowed cultures.