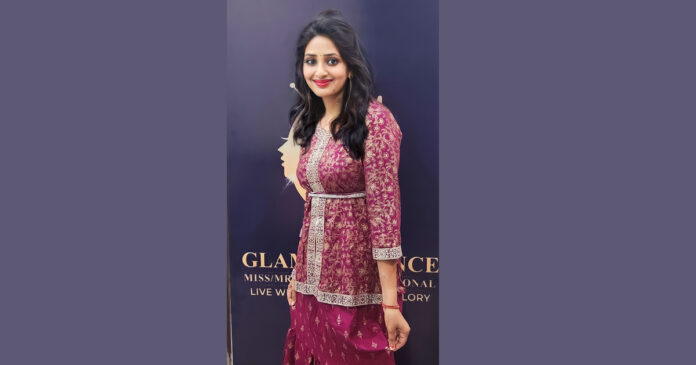 Glam Guidance Miss/Mrs India International 2023 was successfully organized on August 27. In which 40 participants from all over India showed their talent. All 40 participants from India showed their own culture and represented their state. All these participants had come from almost all the states of the country.
There were 3 winners from Miss Category, 3 winners from Mrs Category.
Glam Guidance Miss/Mrs India International 2023 is a national competition that tests contestants on international standards. The winners were selected by a rigorous jury. The jury members included Amb. Dr. Smiley Mukta Ghoshal from America, Girish Kumar from India, Mrs India Dr Neha Singh, Hema James, Pranoti Bagde and Monika Handa were present.
Two winners from Mrs Category decided by Jury as different categories Gold and Platinum winners for their dedication and continuous efforts, their dedication towards social work and recognition in various fields. Mrs India International 2023 Platinum Category won by Ekta Tiwari from Dausa Rajasthan. About Ekta Tiwari Mrs. India International 2023 winner (Platinum) told about herself-
"My name is Ekta Tiwari I am from Agra. I work as branch manager in State Bank of India in Dausa Rajasthan. I run main NGO with the name of Ekta Sangathan. I help poor and needy people through NGO and  I get poor girls married, so far I have got 5 girls married and I have taken full responsibility of 2 other girls. I am also associated with other institutions like Shakti Astitva Ki Udaan. I have roped 1700 plants by my own till now. I am suffering from brain tumor and my treatment is going on in New York, doctors there have told  that I am a guest for a few days, I want to ask them, wow, God, they will decide how long I will live, not God. I decided to live and challenging the doctors of New York with my strong. I had an accident in 2016 so blood clotting became 16 Tumor, 15 got cured, I have cured 15 tumor with my will, now there is only 1 is left with a small brain, I walk 30 kms daily, do exercise for 2 hours, go to office, after coming from office, I give 2 hours to my NGO, 2 hours to my two small children, I And I don't care how big or small my life is whatever it is I have to live happy and I always stay happy give happiness to other people. I am so happy to get this title Glam Guidance Mrs India International 2023 (Platinum). It was my dream to become something in main modelling, win a title in main model because of Neha Ma'am I have won this title Neha mam has always been appreciating me and giving me positive vibes because of her I have won this title in the Pageant. I have been able to win, now it is my responsibility to take this title, I will keep this title very well in future, or else I will add people to our society, who look at the models in a very wrong way, I want to tell them about the responsibility of this title. I want to make career of my sisters and daughters in modeling too Modeling is a very good thing very lovely career. I want to change mindset of few people, they think modelling is wrong, but in actual it's a talent it's an art. According to me th reason of winning title was also part of modeling. I was confused earlier, Should I change the thinking of my society or should I start this, when I have a title, if I get the title, I will give my life to change the thinking of the society or people who look at it wrongly. I would also like to say thank you to my daughters and sisters for making their careers and to my lovely Neha ma'am who considered me worthy of this title and made me a platinum winner or would like to say thanks to my husband Prashant Tiwari and Rashmi di for their make up Artist Ajay Gupta ji or my whole family always appreciate me and support me."
"The director of the show Neha Singh said that the participation from almost all the states of the country was a matter of pride in itself and the example of unity in diversity of the country that has once again emerged from this show.
Bhavna Singh from Uttar Pradesh did the free flow Anchoring in the show. The winners from different Indian states of the country were congratulated by the jury members and Glam Guidance wish them for their bright future. Yoga and Physical Fitness Training provided to the finalists by Monika Handa. Groomers Nazia from Singapore and Amb. Dr. Smily Mukta G from USA played an important role to groom the finalists and wished all contestants for their bright career.
Follow Glam Guidance on Instagram: https://www.instagram.com/glam.guidance