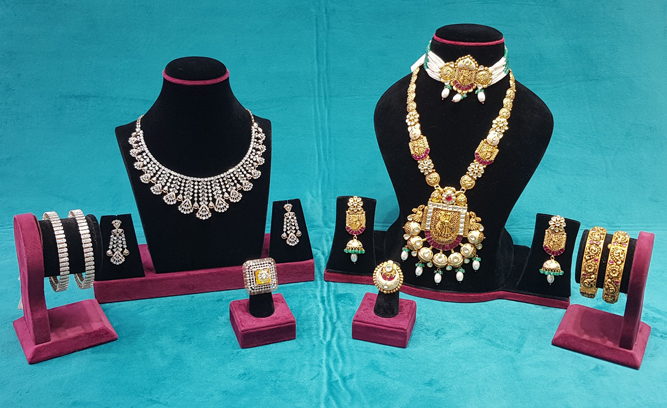 Gurugram [India]: Abhushan Mandir Jewellers, one of Gurugram's most revered and longstanding jewelry stores, has been an integral part of the city's cultural fabric for over five decades. Established by the visionary Mr. Devinder Kumar Jindal, Abhushan Mandir Jewellers has upheld a legacy of craftsmanship and trust, providing exquisite gold, diamond, and silver jewelry to generations of patrons.
As a second-generation expert in the realm of precious gemstones and jewelry in India, Mr. Devinder Kumar Jindal has laid a strong foundation for Abhushan Mandir Jewellers. With over five decades of unwavering commitment to quality and customer satisfaction, the store has become a symbol of trust and elegance.
The legacy of excellence continues under the astute leadership of the youngest director, Mr. Parth Jindal. Parth is not only the custodian of the family's rich heritage but also a distinguished professional in the field of gems and jewelry. Holding a prestigious degree as a graduate gemologist from the International Geological Institute (IGI), Parth has honed his skills over the course of ten years, making him a leading authority in the industry.
Parth's dedication to his craft is unparalleled, and his commitment to excellence is evident in every piece of jewelry that carries the Abhushan Mandir Jewellers name. His profound knowledge of gems and jewelry, coupled with a discerning eye for quality, allows him to provide invaluable guidance and assistance to clients seeking exceptional gemstones and jewelry.
Introducing the Festive Collection:
To mark the occasion of their 52nd anniversary, Abhushan Mandir Jewellers is thrilled to announce the launch of their spectacular Festive Collection. This collection, meticulously curated and designed, captures the essence of celebration, tradition, and elegance. Each piece is a work of art, blending timeless craftsmanship with contemporary aesthetics.
Abhushan Mandir Jewellers invites all jewelry connoisseurs and enthusiasts to explore this magnificent Festive Collection, a testament to their commitment to delivering excellence and celebrating timeless traditions.
For more information, reservations, and inquiries about the Festive Collection and the Abhushan Mandir Jewellers legacy, please contact: https://instagram.com/abhushanmandirjewellers