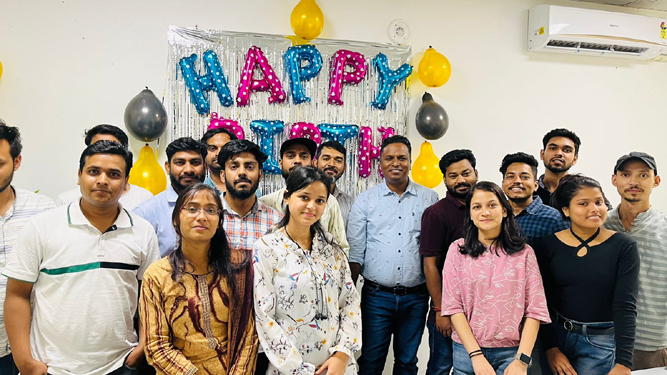 Since its inception in 2016, WIPL has been committed to providing cutting-edge solutions that meet the latest market trends and ensuring timely delivery to customers' premises.
With more than 100 customers like SAMSUNG, LG, FOXCONN, HAIER, TCL, HONDA and more, we highly focus on customer satisfaction.
Led by the astute guidance of Mr. Tapas, Director Warehouse International Private Limited has achieved remarkable success in a relatively short span of time. Due to our passion for innovation, the company has gained a loyal customer base and garnered a reputation for its unwavering commitment to excellence.
Founded by Tapas Ranjan Patra, an esteemed alumnus of NIT Nagpur, and a former employee of Samsung, WIPL has quickly established itself as a trusted name in the industry. Leveraging Tapas' rich experience and expertise, the company has witnessed remarkable growth and currently boasts an impressive turnover of 38 Cr.
WIPL operates in various sectors, including EMS Manufacturing, Projects, Lean Products, ESD Products, and Machine & Equipment. This diverse portfolio allows the company to cater to a wide range of industries, providing comprehensive solutions tailored to specific requirements. By consistently delivering superior products and services, WIPL has earned the trust and confidence of its clients, enabling it to forge strong and long-lasting partnerships.
With offices in Noida and Chennai, WIPL has successfully expanded its operations and market reach. This strategic presence in crucial industrial hubs ensures efficient customer service and strengthens its position as a reliable supplier in the market.
As a testament to its ambition and vision, Warehouse International Private Limited is targeting a significant milestone of reaching 100 Cr in the next two years. The company plans to invest in a Minibar Production Line and a deep freezer production line. These strategic investments will enhance its manufacturing capabilities and enable WIPL to diversify its product offerings, cementing its position as an industry leader.
Warehouse International Private Limited continues to exhibit its commitment to innovation, quality, and customer satisfaction. With its focus on excellence, the company is well-positioned to meet the evolving needs of its clients and carve a niche for itself in the competitive landscape. As WIPL embarks on its journey towards new milestones, the future looks promising for this dynamic and forward-thinking organization.