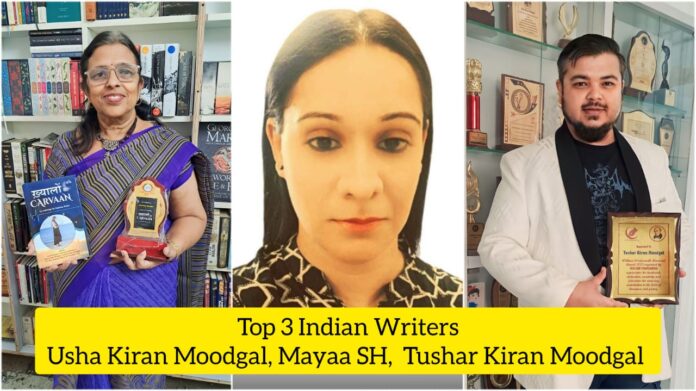 Top 3 Indian writers who are known for their unique style are Usha Kiran Moodgal, Mayaa SH, and Tushar Kiran Moodgal. In an endeavour to bring the best content to you, we are delighted to share about these champions of contemporary Literature.
Usha Kiran Moodgal
Dr. Usha Kiran Moodgal is a distinguished Hindi poetess, researcher, and dancer, earning acclaim on both national and international fronts. She is the International Ambassador at Dawn Research and Development Council.
Her poetry compilation "Kavya Tulika" has gained extensive recognition and numerous accolades, complementing her participation in various collaborative anthologies. "Kavya Tulika" is a captivating first collection of poems by Moodgal, which pays homage to the esteemed tradition of Hindi literature. In this eloquent compilation, she skillfully crafts a tapestry of emotions, drawing inspiration from celebrated Hindi poets like Nirala, Jaishankar Prasad, Sumitranandan Pant, Mahadevi Verma, and others. The book takes readers on a literary journey, exploring profound themes while honouring the timeless classics of Hindi poetry. The poetic magnum opus delves deep into the realm of Hindi literature, offering readers a poetic experience enriched with cultural heritage. Moodgal's verses evoke the philosophical narratives surrounding Krishna, the valiant Bhishma Pitamah, and the struggles and triumphs of women. Each poem encapsulates the essence of these literary traditions, embodying the spirit of the great poets who have paved the way for Hindi literature's enduring legacy.
Academic diligence earned Usha Kiran Moodgal, post-graduate degrees in Hindi and History after her undergraduate pursuits. In 1987, she embarked on her marital journey with Ashok Moodgal.
A life enriched by literature and dance, Moodgal recieved the "Bharat Shree National Award", "Dadasaheb Phalke ITV Award" and the "Honorary Gold Medal Award by DRDC Global" for her unswerving literary contributions. Notably, her book "Kavya Tulika" secured the "Sahitya Sthambh Puraskar 2023" and "Sahika India International Award" for "Best Poetry Book of the Year."
Usha Kiran made multiple world records with her poem "शक्ति" ("Shakti" meaning power) and made it to the Inkzoid and Glorious book of records. Acknowledgments encompass the "Maharshi Valmiki Bharatiya Gaurav Samman 2023," "Tagore Ratna Samman," "Nazrul Sahitya Samman Laureate Award," and the "Ishwar Chand Vidya Sagar Iconic Achievers Award." Her poetry, including "निर्णय" and "ख़ामोशी," published in collaborative editions, garners acclaim. International laurels include the "Asian Excellence Award 2023" as well as the "Helen Keller Global Iconic Women's Award".
Moodgal shares her creations on Instagram, @ushakirankavyanjali. Her works feature in newspapers, digital and media platforms, even gracing covers of magazines like Lidue, Sky Glamour and the Eagle Eye. 
Mayaa SH 
Mayaa SH is a multi National Award Winner and a Double World Recorder, An Artist and a Record Chart Topping International Fastest Anthology Co-Author . Mayaa SH is a Women Empowerment Culturist .She has depicted gender inclusivity and equality through her certifications from the United Nations and powerful writings on Feminism .Her work depicts the identity,economic and social freedom of many .She has co-authored more than fifty plus anthologies and has been featured in several magazines and women oriented like Tejaswi -The Imperishable on Women Power and Honour including few international magazines. Mayaa has written on various topics like Feminism, Transforming Vision Into Action: Transmogrification on Transgender Community and Mental Health Awareness Topics .Her first poem "The Candle In The Wind" made her win an Award at the National Level. She navigates many women through stress by deploying talking as a medium to combat stress and fear . Being an absolute homebody at heart ,yet extroverted, she often fantasies herself as a TEDx Speaker inspiring millions of women all across the globe to live their dreams . Mayaa is an avid motivator of uplifting women across all sections of the society by navigating them through emotions and empowering them to rekindle hope and self-belief.She has Written For Patriotic Books like Vande Matram and Bharat Bhoomi ,Regular at Lekhak Mandali ,Writeathon Writing Challenge in March 2022 and was awarded with the limited edition trophy of tributary The 21st Century Emily Dickinson Award, She has also written quickest quotes under an anthology titled "दिल शायराना है 4 under DJ Publication ,Several Articles  for websites like Webstory India,The DailyBeat,The Update India, Hindustan Metro  ,Daily Hunt ,Indian Stories Live,Tales That Matter ,Funky News , RB Live Media ,Republic News India, Medium , India Stardom, Youth Ki Awaaz, Stay Featured   etc .
Tushar Kiran Moodgal
National award-winning poet and author Tushar Kiran Moodgal hails from Shahdara, East Delhi. His literary prowess is characterized by a unique writing style that artfully melds various influences, seamlessly blending elements of romanticism, gothic themes, and profound philosophical reflections with a refreshingly candid and unvarnished approach to his craft. Moodgal acknowledges his father, Ashok Moodgal, as a significant influence, alongside literary luminaries such as William Wordsworth, John Keats, Edgar Albert Guest, and Edgar Allan Poe.
While Moodgal's journey as a wordsmith began during his formative teenage years, his foray into the world of published literature is relatively recent. Over time, his poetry has undergone a remarkable transformation. His early work was marked by themes of angst and a nihilistic perspective, delving deep into subjects like heartache, anxiety, and depression. In contrast, his more recent poetic creations delve into the realm of philosophy, reflecting his profound embrace of the teachings found in the Geeta and his steadfast advocacy of Stoic philosophy.
The crowning jewel in Moodgal's literary achievements is his debut poetry book, "Lamentations," released through Evincepub Publications, which won the William Shakespeare Golden Book and Laureate Award and boasts a collection of several award-winning poems. Additionally, he has lent his poetic prowess to over 25 poetry anthologies, thereby showcasing his versatility and range within the art form. His literary pursuits have also earned him the "Jane Austen Platinum Book Award" and the "William Wordsworth Memorial Award", which he cites as his most cherished accolades considering the impact Wordsworth's works have had on him.
Moodgal's contributions to contemporary literature have earned him a slew of prestigious awards and accolades, particularly in recognition of his philosophical poetry. His poem "Rhapsody Of Twilight" has secured multiple world records, and he has been prominently featured in esteemed publications such as Inkzoid Book of Records and the Glorious Book of Records. Notably, he has received several national honours such as "Bharat Shree", "Bharat Vibhushan", "Dadasaheb Phalke", "Maharishi Valmiki Bhartiya Gaurav Samman 2023," and the highly coveted "Tagore Ratna Samman 2023." A recipient of various other awards, including "The Best Poet" and "Poet of the Year," Moodgal's poetry has graced the pages of numerous newspapers and digital media platforms. He was also recognized as one of the "Outstanding Poets" for his contributions to the "Mysterious Fantasy" anthology by Instant Publications.
Beyond his passion for poetry, Tushar Kiran Moodgal possesses a profound interest in philosophy, history, and the intricate interplay between political behavior in societies and its profound impact on culture. To further his knowledge and pursuits, he pursued a master's degree in Political Science and International Relations, in addition to studying the Japanese language at St. Stephen's College, Delhi University and has been the recipient of the International Ikigai Award for his contribution towards Japanese studies.