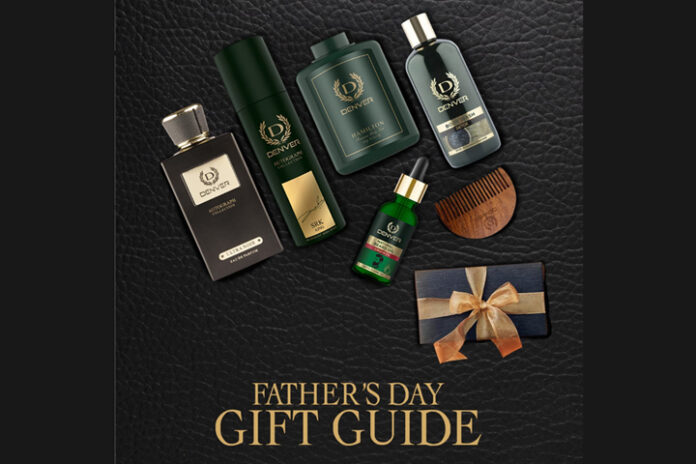 Effortless superior grooming for the modern man
Rugged, sweaty looks on men is a thing of the past! While not many men are warming up to the concept of complex skincare routines, one would agree that gone are the days men considered personal care and skincare beneath them.
This Father's Day, we have just the perfect, non-frills gift to give to the men in your life. And psst, we've kept it affordable, too! As summer lingers on longer than we like, here are our top picks to indulge your dad in some TLC, that comes in handy daily, not just on special occasions, like ahem, those cufflinks sitting in your online cart.
Tough on the outside while being gentle on the inside? Sounds like every dad and our products too!
Availability for all: https://denverformen.com/
1. Denver advanced face washes for men
Still using harsh soaps on your face? The Denver Face Wash Acne Clear is loaded with Tea Tree, Kaolin Clay and Neem Extract which help in cleaning pores, soothing redness and itching, and preventing new breakouts. The Denver Face Wash Deep Cleanse has active ingredients like Activated Charcoal, Mint and Aloe Vera that go deep into your skin, drawing out impurities.  Another product perfect for your father's summer skincare routine, the Denver Face Wash Oil Clear is loaded with Vitamin C, Orange Extract, Aloe Vera and Green Tea which help in removing excess oil, and clear pigmentation and tanning.
Say goodbye to dry and flaky skin, sun damage, blocked pores and oily skin — in one simple step. 
Price for all: Rs 99 (50 gm) 
2. Sporting Club Gift Sets
A timelessly classic gift for him,  its fragrance is a perfect all-time wear. Composed of a fantastic blend of spices with musk, its fresh top notes blended with exotic spices and richness of geranium at heart with woody, the musky base gives a complete feel to the wearer. It has the rider, victor and champ fragrances, crafted for the man for today.
Price: Rs 575/-
Availability for all: https://denverformen.com/collections/gift-packs
3. Hamilton Gift Sets
It consists of aromatic fresh green notes blended with spicy floral and is filled with mossy and balsamic woody leaving you feeling fantastic all day long. It has long-lasting fragrances like Pride, Prestige, Honour, Calibre, Imperial, Noble and Esteem Perfume.
Price: Rs 575/-
Availability for all: https://denverformen.com/collections/gift-packs
4. Body Washes
The Denver Tea Tree Body Wash with its soap and chemical-free formula effectively purifies the skin and keeps the urban man smelling great. Experience a burst of freshness and feel rejuvenated with this body wash. The Denver Activated Charcoal Body Wash works like a magnet by absorbing dirt and other pollutants from the skin. It also deep cleanses pores and leaves your body refreshed with its masculine fragrance.
Price: Rs 399/- (325 ml)
Availability for all: https://denverformen.com/collections/bath-shower 
5. Beard Oil
Denver's 100% natural beard oil is enriched with the power of tea tree oil that stimulates blood flow giving your beard a smoother and healthier texture. It is suitable for all skin types and its advanced formulation helps promotes effective beard growth. Available in Smooth and Growth variants. And hey, we have thrown in a free zero-waste beard comb.
Price: Rs 299 (30 ml)
Availability for all:  https://denverformen.com/collections/grooming
6. Autograph Perfume Collection 
Shah Rukh Khan needs no introduction. His style, finesse and attitude of perfection are known to everyone. Denver invited him to curate an exclusive range of perfumes encapsulating his sense of sensuality. The collection bears his autograph as a mark of his faith which inspired us to discover unique and rare notes. If your dad is a fan, this is a great chance to let him experience the touch of Shah Rukh's personality with this exclusive collection.
Available in Regal Musk, Ultra Noir, Intense Oud, Forest Wood, Mystic Ocean and White Leather variants.
Price: Rs 1299 with two complimentary travel pack deos
Availability for all: https://denverformen.com/collections/autograph