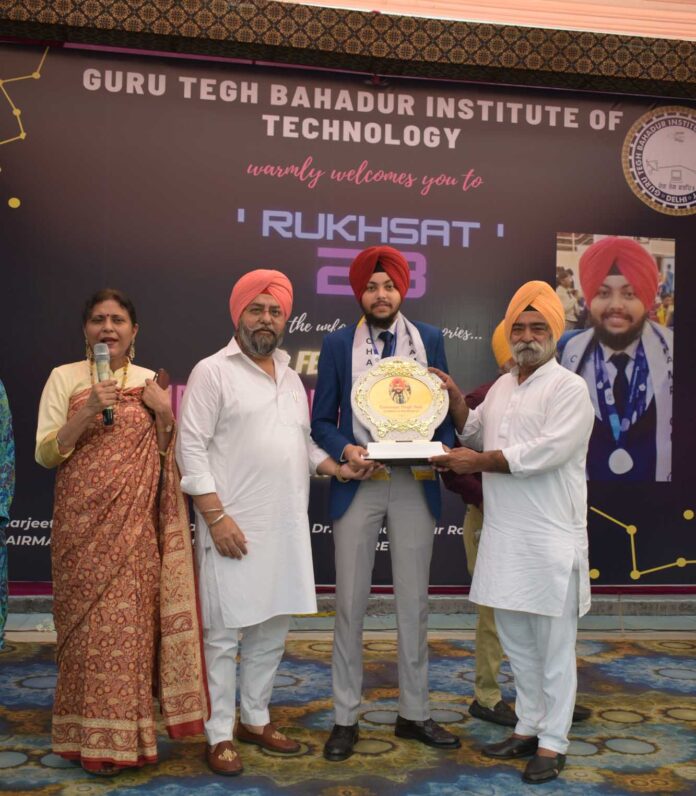 Gunocean Singh Bedi – A Champion Honoured by Guru Tegh Bahadur Institute of Technology
In a remarkable display of talent, determination, and sportsmanship, GunOcean Singh Bedi has emerged as the Silver Medalist in Table Tennis at the prestigious Special Olympics Games. The event, which was held in Berlin in 2023, witnessed 7000 athletes from across the world showcasing their exceptional abilities and highlighting the power of inclusion in sports. 
Gunocean, the great son of Bharat, a passionate table tennis player, has defied all odds to secure this outstanding achievement and made the whole country proud by winning the silver medal for Bharat. 
In just one year of sheer dedication, Gunocean has achieved a remarkable feat by showcasing tremendous performance and sportsmanship at the Special Olympics Game, Berlin, 2023. Fueled by his unwavering determination and support from his family, friends, and relatives, Gunocean competed against athletes from across the world, leaving a trail of awe and inspiration in his wake.  Their encouragement and guidance have been instrumental in nurturing his talent and fostering a  sense of self-belief that propelled him toward success. His journey to the Silver Medal podium is a  testament to the power of hard work, passion, and the indomitable human spirit. 
With each stroke of the table tennis paddle, Gunocean not only brought immense pride to his nation but also shattered barriers, proving that dreams can be realized with relentless perseverance and the love and encouragement of those around us. His story is a shining example of how dedication and support can transform an individual's life, making him a true champion both on and off the table tennis court. 
"I am incredibly grateful for the opportunity to represent my country and showcase my skills on this esteemed platform," expressed Gunocean. "This silver medal is not just mine; it belongs to all the  athletes who inspire the world every day through their passion for sports." 
Gunocean, along with his incredible parents, has become a beacon of hope and a true role model for individuals with intellectual disabilities. Their unwavering belief in the power of positivity and determination has shown that every negative can be transformed into a positive outcome. Through hard work, perseverance, and an unbreakable spirit, Gunocean has not only defied societal limitations but has also triumphed on the grand stage of the Special Olympics Bharat. 
His journey serves as an inspiring reminder that no obstacle is insurmountable with the right mindset and support system. Gunocean's achievements stand as a testament to the potential within all individuals, irrespective of their challenges. His success story has touched the lives of countless people, motivating them to embrace their uniqueness and strive for greatness. 
On the other hand, Gunocean's parents, in their unwavering support and encouragement, have exemplified the power of parental love and dedication. Their belief in their child's abilities has nurtured Gunocean's self-confidence, allowing him to excel in the sport he loves. As role models,  they have shown other families that dreams can be pursued and achieved regardless of any hurdles that may arise. 
As we have always heard, hard work always pays off and comes back in different forms, hence the efforts, as well as sacrifices made by Gunocean's parents, are deeply appreciated in the professional arena too. Gunocean's victory has also been recognized by Guru Tegh Bahadur Institute of  Technology, New Delhi. The Institute is proud, and inspired to have an International Champion's
father in their own team of professors. Chairman S. Amarjit Singh, Manager S. Harjeet Singh Pappa  & Director Dr Rominder Kaur Randhawa presented a memento & laptop to honour Gunocean on his spectacular International achievement. 
The Institute is a creative depiction of hope and inspiration for all parents who encourage their kids to pursue their ambitions. In order to motivate everyone to develop into a Champion for the country,  the Institute not only provides enormous amounts of inspiration but also supports triumphant acknowledgment for the champions and their parents. 
The journey of Gunocean and his parents has left an indelible mark on the hearts of many, leaving behind a legacy of inspiration and empowerment. They have proven that through determination and a positive mindset, individuals with intellectual disabilities can become shining stars and make significant contributions to their communities and the world at large. 
Gunocean dedicated this glorious achievement to his beloved parents, his country-Bharat, and the people with intellectual disabilities. His story continues to inspire countless others, reminding us all that we can break barriers, overcome challenges, and transform our lives with perseverance,  support, and a belief in ourselves. As a role model, Gunocean's impact goes beyond the realm of sports, touching the core of the human spirit and reminding us that every person has the potential to achieve greatness and be a guiding light for others. 
"We are immensely proud of Gunocean's achievements at the Special Olympics Bharat," said the  Spokesperson at the Special Olympics Games, Berlin 2023. "His success not only inspires our entire  organization but also serves as a beacon of hope for millions of individuals with intellectual  disabilities, emphasizing their abilities over disabilities."