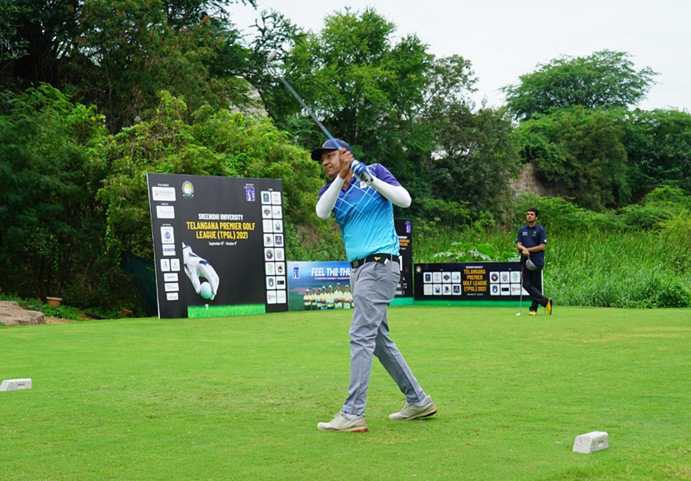 Hyderabad, September 30: The Fourth round of the SREENIDHI UNIVERSITY TELANGANA PREMIER GOLF LEAGUE 2021, was held on Wednesday, September 29TH  2021 at the Hyderabad Golf Association golf course. The league sponsored by Sreenidhi University and powered by Magnifiq Securities, HDFC and NMDC; has 5 qualifying Rounds in the league stage. The two teams qualifying from each division play in the 3 Rounds of Knock out/playoff matches of Quarter-Finals, Semi-Finals and Finals.
The fourth of the first five qualifying rounds were played in Doubles format on Wednesday, September 29th where 64 golfers from 8 teams teeing off in the morning session at 6.20 am and another 64 golfers from 8 teams teeing off at 11.10 am in the afternoon session. Though it rained heavily over the past few days due to cyclone Gulab, the course recovered quickly and the round was played with monsoon rules in place and the weather was perfect for golf and saw intense competition among the teams.
The fourth round is the penultimate round where the top two teams from each group qualify for the quarter-finals. The competition was intense and has seen some phenomenal golf. Team Mysa (29.5 points, Group D), Apollo Cancer Crusaders (28 points, Group B), Devpixel Devils (27.5 points, Group C)  & Classic Champs (26 points, Group A) lead in their respective groups followed by Villaggio Highlanders (26 points,  Group C), Glendale golfers (26 points, Group D) Civet Rangers (24.5 points, Group A) & MYK Strikers (24.5 points, Group B), in the second position in the respective group. The top two teams from each group will emerge after the final round of the qualifiers is played on October 2nd who will go on to play the quarter-finals in the knockout stage of the league.
The 4th round saw some exciting and keenly contested matches. Team Mysa are in the lead in their Group D.  Captain Madhav Kota and partner Ajay Vedre had an exhilarating performance to win their game 3 & 2.   Vasu Merugu and VVSN Raju had a crucial win on the 17th hole to close their match 3&1 which gave Team Mysa 29.5 points. Srinivas Sagi & Nageshwar Rao of Glendale Golfers fought a rear-guard action beating their opponents from Team Mysa on the 18th hole in a nail-biting finish.
Classic Champs are in the lead in their Group A, bagging 6 points with excellent rounds by Shashidhar Reddy & Hitesh Zaveri, Manoj Chawda & Akshat Goel, Jassi Birgi & Amresh Menedal against Civet Rangers. With these wins, Classic Champs are back as leaders of Group 'A' with 26 points. Captain of Classic Champs, Shashidhar Reddy had a top-notch round playing one over.
Apollo Cancer Crusaders lead in their Group B and continued their streak by winning 3 out of the 4 doubles matches.  Team owner, Dr. Vijay Anand continues to remain unbeaten and wins a hard-fought battle on the 17th hole. The other two teams have more easy wins, while Neha and JK finally concede on the 17th to a team with top-ranked players of HGA.
Team Labonel bagged 5 points in the doubles round. Playing against Team tee off, with the pairs of Jayanth Tagore and Giridhar; Ch. Mohan Rao & Sandeep Rathi getting two points each. Ch. Mohan Rao & Sandeep Rathi had a great game and won with 6 up 5 to go with back-to-back birdies ending with a top margin in today's game. O.P Modi & Ravi Bathi squared their match, getting one point. S.L. Venkatapathy Raju and Rahul Varma of Team Teeoff outplayed the opponents and getting 2 points while Sridhar K and Sudheer Kumar drew their match, getting 1 point.
Villaggio Highlanders retains its position in Group C on the qualifying leadership board. With an outstanding performance by their Captain, Dr. Sameer Azad Mahendra and Sanjay Chowdhary by beating the opposition by 6 up 5 to go.
A senior golfer of HGA and a player of team Valley warriors, Mr. Ram Paleti won all his games in the league and remains one of the top players on the league individual player leaderboard. 
Overall the 4th round saw some very competitive golf setting the stage for the 5fth and final qualifying round on October 2nd which will determine which two teams from each group will go into the quarterfinal in the knock out stage of the league.
The team scores in the respective groups are as follows: