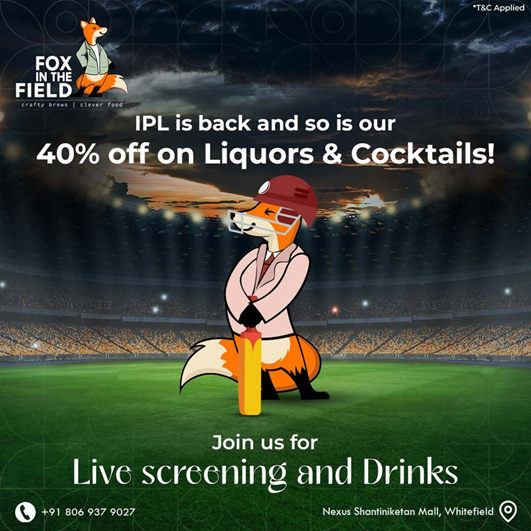 Fox in the Field is ready to make this IPL season, even more, electrifying with its unbeatable offers and events! Known for its musical performances, theatre bar, and top-quality beer collection, Fox in the Field is the perfect place to enjoy IPL matches with your friends and family.
Here's a sneak peek of the exciting events and irresistible offers that Fox in the Field has lined up for the IPL season:
IPL Power 40 Deal: Are you ready to experience IPL like never before? Enjoy an amazing 40% discount on liquor and cocktails throughout the entire IPL season, only at Fox in the Field! Cheer for your favorite team while sipping your favorite drink, and let the fun begin while the expenses get smaller. This unbeatable offer is only available for a limited time, so hurry up and grab it before it's gone!
Fan Jersey Discount: Show off your team spirit with Fox in the Field's Fan Jersey Discount. Wear your favorite team's IPL jersey or T-shirt during match screenings, and get a discount on your food and drinks. Take memorable group photos with your friends and share them on social media with the hashtag #FITFIPL. Who knows, your pictures might even get featured on Fox in the Field's social media pages!
Cricket Trivia: Calling all cricket buffs! Test your knowledge with Fox in the Field's Cricket Trivia. Follow Fox in the Field on Instagram and participate in cricket quizzes during IPL matches. The first few correct answers will win exciting prizes such as free drinks or appetizers. So, brush up on your cricket knowledge and get ready to win big!
Live Screening in Theatre Bar: Get the ultimate IPL experience with Fox in the Field's live screening in its state-of-the-art theater bar. With surround sound and a large screen, it's the perfect setting to experience the thrill of the match with your friends and family. And, with a range of food and drinks on offer, your IPL experience is sure to be unforgettable.
Fox in the Field welcomes all IPL fans to come and enjoy the unmatched ambiance and the unbeatable offers of this IPL season. Whether you're a die-hard cricket fan, looking for an amazing discount, or want to spend quality time with your loved ones, Fox in the Field has something for everyone.
So, what are you waiting for? Join us at Fox in the Field and get ready to experience IPL like never before! For more information, visit the Fox in the Field website or follow the brewery on social media. Don't miss out on the most exciting IPL experience yet!
Website: https://foxinthefield.beer/