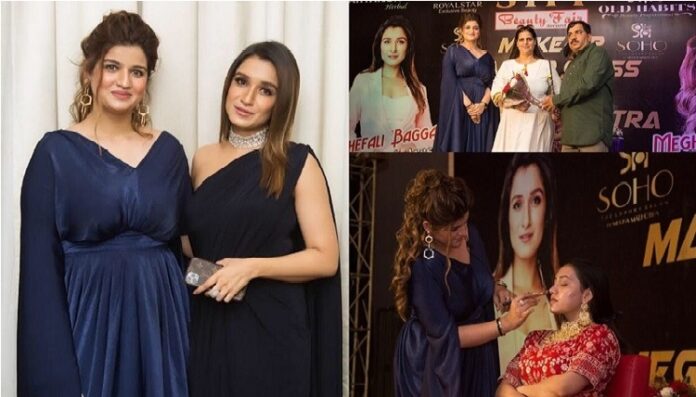 The world says that beauty lies in the eyes of the beholder. However, the magic of makeup can transform a shy, unconfident girl into a much stronger and assertive one, who gets ready to take over the world. The makeup industry is not only a lucrative career path, but also considered as an art that gets confluenced with passion and practice. And in order to share the insights and knowledge of this field, celebrity makeup artist Megha Malhotra recently conducted a makeup masterclass in Hisar, Haryana.
There is no denying in the fact that a makeup masterclass is an interactive platform where talented and emerging makeup artists are invited to participate and learn the makeup artistry and skills in the most creative way. Makeup Artist Megha Malhotra who has been reigning over the beauty and glam industry for more than a decade now inspired the young generation to embrace their beauty, as makeup is an aid to accentuate the looks with confidence and attitude.
The makeup masterclass was organized in Hisar, Haryana for a day by none other than Mr Sanjay Mehta, who is a renowned event manager and has been conducting successful events in the past as well. He has been enthusiastically working with the top-most makeup artists, Bollywood celebrities and beauty influencers. The event was hosted and anchored by the super-sensual Bigg Boss contestant Shefali Bagga.
Not only this but this masterclass witnessed an expressive participation from the makeup artists across Delhi and NCR. The event not only aimed to learn new makeup trends and skills but also to publicize the masterwork of these budding makeup artists. The sole purpose of this event was to provide a platform where these MUAs can learn new market trends, brush-up their basics, and product knowledge. Megha Malhotra along with her expert team of assistants and stylists, even taught how to develop high-end shoot content, and increase the brand visibility.
At the event, Megha created a millennial bridal look which is a hot trend these days. The way this dynamic artist took the natural subtle makeover to another level, was undoubtedly appealing. The gorgeous muse was wearing an embellished red bridal lehenga exclusively handcrafted by the famous designer brand 'Libaz By Mann'. This outfit partner is a renowned bridal wear brand from Chandni Chowk, the heart of Delhi, with exquisite designs that represent a perfect confluence of traditional artwork and modern silhouettes.
The final look was bedecked with dazzling polkis and kundan bijouterie from the jeweller 'Jewels Street' which is an imitation wedding jewellery brand. This brand has been fulfilling the desires of Indian women by designing regal options in American Diamond, Jadau, Polkis, Kundan, and Meenakari jewellery. The entire team of Megha Malhotra was privileged to collaborate with the esteemed brand partners for this event for gracing the charm of this masterclass event. The grand beauty masterclass ended on a very positive note with an expectation of its next edition to come even sooner.