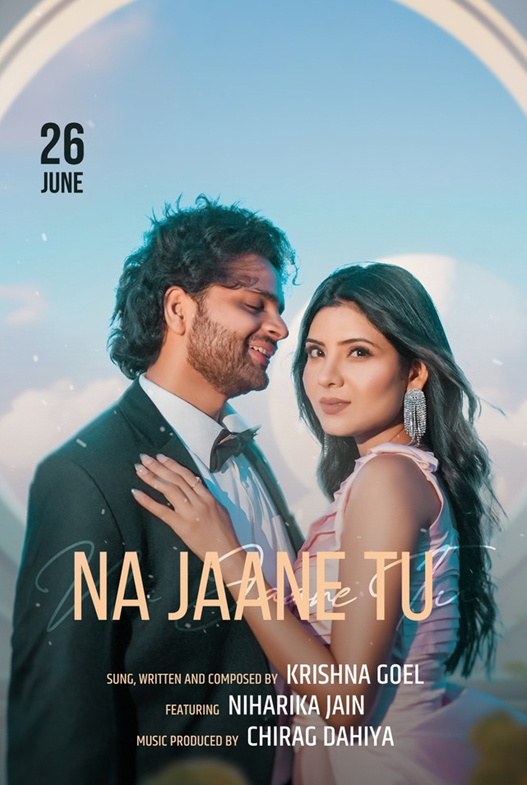 Srishti Agrawal
Fashion influencer Niharika Jain, known for her impeccable sense of style and massive online following, is set to make her highly anticipated debut in the music video "Na Jaane Tu". Collaborating with singer and writer Krishna Goel, production house Merchant Records, and producer Chirag Dahiya, Niharika is all geared up to grace our screens with the mesmerizing music video. This exciting release is scheduled for the 26th of June 2023, marking a significant milestone in Niharika's career and paving the way for a promising musical journey. In this exclusive interview article, we delve into Niharika's transition from fashion influencer to musician, the creative process behind "Na Jaane Tu," and her thoughts on venturing into the world of music. Let's hear it from her.
1. Hello Niharika! First of all, congratulations on your debut song 'Naa Jaane Tu'! How does it feel to start your musical journey?
Namaste! Thank you so much for your warm wishes. I am absolutely thrilled to embark on this new chapter of my life as a lead artist with my debut song 'Naa Jaane Tu'. The journey so far has been filled with excitement, nervousness, and a whole lot of creative exploration. It's a dream come true to combine my love for fashion and music in this music video. I'm truly grateful for this opportunity.
2. Your fans are curious to know how has the transition from a successful fashion influencer into the world of music been for you?
The process of bringing 'Naa Jaane Tu' to life has been an incredible experience, from selecting the perfect outfits and styling to collaborating with talented musicians and producers. The encouragement and love of my followers have been my driving force throughout this musical journey.
3. How has your fashion journey influenced your approach in this music video?
Now that I think about it as a fashion influencer, I've always believed in embracing new challenges and pushing my boundaries, and this foray into music is a testament to that. I'm eagerly looking forward to sharing more music, videos, and exciting collaborations in the future. Stay tuned as there's a lot more to come!
4. Now that your music career has begun, is there any message or words of inspiration you would like to share with your fans?
To all my amazing fans, thank you for your unwavering support. My message to you is simple: Believe in yourself, pursue your passions fearlessly, and never stop dreaming. And yes, never forget to pay the bill before moving to another sitting area. Trust me, it saves you from some hilarious misunderstandings!
5. Niharika, we've heard that during the shoot of your music video, there were some hilarious Care to share one?
So, picture this: we were shooting at this awesome restaurant. We had gotten all the necessary approvals for our shoot, or so we thought!
We had a little chat with the PR person, who assured us that everything was sorted. But little did we know, the owner of the restaurant had absolutely no clue about our plans. Now, this restaurant has two sitting areas. Our team of ten had a lovely lunch in one area, and we had all our shooting equipment and materials there too. We had a good time, and then decided to move to another sitting area.
And here's the twist: None of us paid the bill for our first meal! Can you imagine? The staff at the restaurant thought we were pulling off a classic dine-and-dash move.
It took us a whole hour to convince them that we hadn't actually run away without paying.
In the end, we managed to clear up the misunderstanding and had a good laugh about the whole ordeal.
Niharika Jain, who is all set to make her debut in the music world with her song 'Na Jaane Tu'. the highly anticipated music video will be released on the 26th of June 2023. Keep an eye out for 'Na Jaane Tu' and get ready to be swept away by Niharika Jain and Krishna Goel's chemistry. You can find out more details on Niharika's Instagram handle _niharikajain.