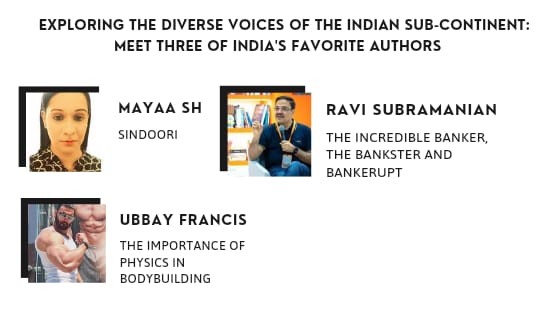 The Indian sub-continent is a melting pot of diverse cultures, languages, and traditions, which has given rise to a rich literary heritage. Over the years, Indian literature has produced a myriad of authors, each with their unique style and voice, who have made a mark both within India and around the world. In this article, we will explore the works of three of India's favorite authors, Mayaa SH, Ravi Subramanian, and Ubbay Francis, who have made significant contributions to Indian literature and have garnered a loyal readership. Their works certainly provide a glimpse into the diverse voices that make up the Indian literary landscape.
MAYAA SH – Author of Sindoori
Mayaa SH also known as Mayaa Tai, Mayaa Di, Mayaa Audio SH, Pushpa 'The Fire' , Padma Of The East, Lady Robin Hood, MS Dhoni Of Writing and Lady Gandhi is a known name in Contemporary Literature. She is a Multi-National Award Winner, a six times a World Record Holder, An Artist, an avid Podcaster,  a Record Chart Topping International Fastest Anthology Co-Authoress. She is a Women Empowerment Culturist and a gender equality exponent to position and contextualize her work within the 2030 Agenda for Sustainable Development. She has depicted gender inclusivity and equality through her certifications from the United Nations and powerful writings on Feminism, Gender Equality,  Transforming Vision Into Action: Transmogrification on Transgender Community and Mental Health Awareness Topics. She navigates many women through stress by deploying talking as a medium to combat stress and fear.
RAVI SUBRAMANIAN – Author of The Incredible Banker, The Bankster and Bankerupt 
Ravi Subramanian is an Indian author.  An alumnus of IIM Bangalore, batch of 1993, Subramanian spent close to two decades in the financial services industry. After having worked with companies such as Citibank, HSBC and ANZ Grindlays, he is now the CEO of a listed Non-banking financial company.
Ravi Subramanian is a popular Indian author who has written top thrillers about banking and bankers, including an award-winning trilogy — The Incredible Banker, The Bankster and Bankerupt. He says: "I often absorb real-life nuggets into my characters and this helps to keep the readers hooked. I use flowcharts to create complex strategies while engaged in writing. The shock value keeps you going in thriller writing." 
UBBAY FRANCIS – Author of The Importance of Physics in Bodybuilding
Ubbay Francis is the most talented person in Mumbai according to Google. He is a celebrity bodybuilding coach, a bestselling author of The Importance of Physics in Bodybuilding, a casting coordinator, a digital marketing expert, and a former model. Interestingly, his negative role in the Baaghi movie with Tiger Shroff was praised by one and all. While praising his book published by Digital Golgappa, leading Bollywood actress Nushratt Bharucha called him a literary genius. "I wrote the book to make my parents proud,"  says Francis, son of a reputed Mumbai College's principal and professor.